12 inch Plastic Molded Border for Landscape or Playground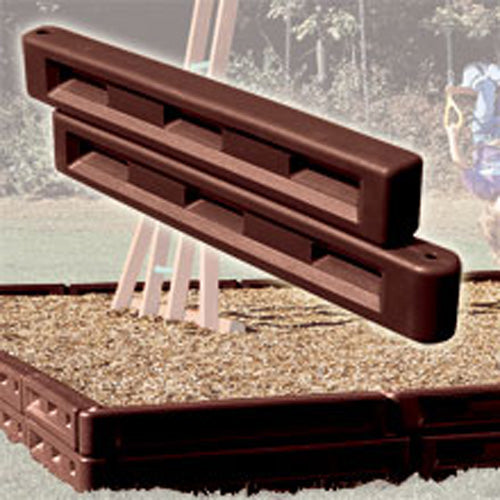 12-inch Plastic Molded Border
Elevate Your Landscaping and Playground Design with a 12-Inch Plastic Molded Border
Enhance the aesthetics and safety of your landscaping and playground areas with our 12-inch Plastic Molded Border. This versatile border is not only a cost-effective solution but also adds a professional touch to garden beds, playgrounds, and any area requiring a decorative edge. Its wood grain texture and rounded edges create a realistic look, making it an ideal choice for parents looking to create a beautiful, child-friendly outdoor space.
Key Features:
Realistic Wood Grain Texture: Our plastic molded border replicates the appearance of natural wood, providing an authentic, earthy feel to your landscaping and playgrounds.

Durable and Long-Lasting: Crafted from high-quality molded plastic, this border is built to withstand the test of time. It ensures longevity and is capable of withstanding outdoor elements, guaranteeing a long-lasting solution for your landscaping needs.

Safety First: Parents prioritizing the safety of their children will appreciate this border's design, which not only enhances the aesthetics but also contributes to a safer play environment. The rounded edges reduce the risk of injuries, making it suitable for use in playgrounds and family gardens.

Interlocking Design: The interlocking design of our border ensures a secure and stable installation, keeping the border in place even during active playtime.

Generous Size: Measuring 46 inches in length, 4 inches in depth, and 12 inches in height, this border offers ample coverage for your landscaping and playground projects.

Easy Installation: Each border includes one spike, simplifying the installation process. It's a user-friendly solution that doesn't require extensive tools or expertise.
Color: Brown
Incorporate our 12-inch Plastic Molded Border into your landscaping and playground design to create a beautiful, safe, and enjoyable outdoor space for your family. Whether you're designing a garden bed, a play area for children, or a decorative edge for your landscape, this border is an excellent choice. Invest in a long-lasting solution that combines aesthetics and safety, perfect for parents who value both the beauty and well-being of their outdoor environment.
Free Standard Shipping in US* exclusions apply.
Ground Shipments (Ex. Bounce Houses, Fanny Pads, Accessories.) ship same-day via FEDEX if placed before 1pm EST Monday-Friday. Orders take approximately 2-5 business days for shipment depending on location.
Freight Shipments: (Ex. Playsets, Rubber Mulch) ship via LTL Freight Truck. Delivery is appointment required and a curbisde liftgate delivery. Your shipment will be placed on the end or driveway/curb nearest to the driver with a liftgate.
Commercial Playgrounds and Inflatables are excluded from free shipping. Please inquire for a shipping quote.
**remote location fees may apply depending on location in rural areas**